In the stock market, people come with different motives. Some come with the objective of earning dividends from the company, some are here for taking returns higher than the average market returns and some are here for being a part of the growth of the company.
When you invest in a company due to tremendous growth potential, you become a growth investor. Growth investing is different from value investing in the sense that in growth investing, people are of the opinion that the company has substantial potential for capital appreciation whereas in value investing, the company is trading at a price lower than it should, i.e. its intrinsic value.
"When you practice value investing, you are not jumping on to the bandwagon. You stand alone." –Sankaran Naren, CIO of ICICI Prudential Mutual Fund
Remember those good things come in small packages:
Though small and mid-cap companies are riskier than large and mega-cap companies, they also yield higher returns comparatively. Smaller the stock, higher is the volatility and hence, higher the risk and rewards.
Remember that picking a company out of this bundle of stocks is a great task and you, as an investor, must do your homework properly in order to be confident in your position and investment in a particular stock. You May check Elearnmarkets.com for more articles.
Search in the right places:
You may find many growth-oriented stocks in various sectors and industries. But to pick the right stock, it is necessary to look for companies that have the right culture and drive.
Focus on the 

competitive strength

:
A company's competitive strength makes a lot of difference in its growth structure. Successful or growing companies usually incorporate those strategies into their vision that revolve around their distinctive strength.
As Warren Buffett in his 2017 letter to shareholders said-
"In our search for new stand-alone businesses, the key qualities we seek are durable competitive strengths; able and high-grade management; good returns on the net tangible assets required to operate the business; opportunities for internal growth at attractive returns; and, finally, a sensible purchase price."
What to look for?
There is no preset formula for identifying and evaluating the potential of a company. Growth can be very subjective depending on individual interpretation and judgment. Moreover, an investor must look at the company from its past performance and overall industry analysis.
Some of the parameters you should look for in a growth-oriented company are given below.
Quantitative Factors:
1. Strong historical earnings growth
Always, a company with a decent past record of earnings is said to have great growth potential when compared to its peers with fluctuating revenues.
2. Strong profit margin
Though profits should not be the only criteria that a company must focus on, still it is a very critical driver of a company's growth. If a company is not making profits every year or if they are very fluctuating, then it is preferred to avoid such companies in order to manage your risk-reward ratio because if the rewards are in such companies can be too high, so can be the risk.
 3. Strong return on equity
Return on equity indicates how efficient the company is in applying the money given by the equity shareholders in the form of capital to generate its revenue.
A high ROE implies that the company has been efficient enough to generate and increase revenues without needing more capital. Hence, a company with high ROE is always preferred than a company with low ROE.
For example, in the picture below, we can see that sales are growing consistently and net profit is also consistent every year. A company with growth objective will always try to increase its numbers year on year basis. Therefore, one should always look for stocks that are fundamentally strong.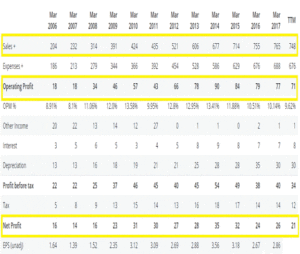 Qualitative Factors:
Numbers are good until they are not window dressing. One should also consider the qualitative factors that drive the growth of a company in order to get a clear picture of the company's estimated targets vs. the actual targets achieved.
It is important to note that more you gain knowledge about the company, more confident you will become about the company.
Some of the important sources of information can be-
Annual Reports
Website of the company
Promoter's Background
Screener
Concalls
Management Interviews
Investing in a growth stock involves a good amount of research and analysis. Different aspects with respect to a company that should be kept in mind are-
1. Company size
Size of the company plays an important role in investing. It can be measured in different terms like in terms of employees, revenue, market cap, etc.
2. Industry Growth
Sometimes, it may happen that the company is growing now but eventually the growth may become stagnant due to limited growth in the overall sector or industry. When looking for a growth stock, you should always look for companies that have a huge growth potential even if it is at its all-time high.
The bottom line is that investing requires a lot of research and understanding about the company you intend to invest, irrespective of the motive that you hold on to (that can be growth potential of the company or to receive dividends).
As Warren Buffet rightly puts it into words-
"The stock market is a no-called-strike game. You don't have to swing at everything – you can wait for your pitch. The problem when you're a money manager is that your fans keep yelling, 'Swing, you bum!'"
 Read More: