Are you confused about where to invest your money? If yes, then Railtel's share price can be one of the best options for you to make investments in it. If you want to become the next billionaire by investing in the stock market, I can show you the way.
Railtel's Share price can experience an extraordinary price hike in the upcoming months. It can show you how to get maximum profitability within a specific time. Before investing in Railtel, you must consider some of the core facts in this case.
Now, you may be wondering about the Railtel share price can hold its position for a longer duration or not? Right being an experienced investor in the Stock market, I know this will concern you. The answer is Yes!! It will be indeed.
Brief History Of Railtel Corporation
Railtel Corporation is a Mini Ratna Category 1 Central Public Sector Enterprise. It is one of the largest neutral telecom and infrastructure provider. It offers the PAN India optic Fiber network along the Railway track in India.
Railtel Corporation was incorporated on September 26, 2000. The main aim of this organization is to modernize the Indian Railways and its telecom system for better train control, operation, and safety.
It creates additional revenue by laying broadband multimedia networks and using optical fibre networks along various railway tracks.
Reasons For Railtel Share Price Hike In 2022
There are several reasons for the hike in the railtel share price. In this article, you will get a complete insight into the core reasons behind the hike in the share prices of Railtel. Let's find out the core reasons for the hole in the Railtel share price in 2022.
1. Announcement Of Government Scheme
The ministry of railways has assigned orders of Rs 105.82 crores its share prices have risen to 20% high today. The telecom infrastructure has been assigned this order to Railtel. It is the reason why the Railtel share price today has risen. Share of the Railtel corporation has risen to 19.97% against the share prices of 145.65 to its previous close of 121.40 in BSE.
2. Getting Orders For Long Term And Heavy Projects
The Railtel Share price NSE climbed up to 19.98% from its previous close of Rs 121.35 to Rs 145.60. The main task of the heavy project which has been offered to Railtel is to upgrade the signalling system from Standard 1 to Standard 2 levels. It must be EI of 5 numbers stations which are approx of 30.37 crores of rupees.
3. 18 Months Contract With Government Project For Railway Renovation
The Railtel Corporation India Share price will keep on creeping in upward level due to the presence of 18 monthly long contract with the government. The up-gradation of the signalling system from standard 1 to standard 2 is now the prime concern for the government of India. It is the reason why its prices will creep up time and again. They have to renovate it in 5 stations in the country.
4. Zero Debt Burden
Another one of the most crucial reasons why you must invest in the Railtel share price is it income stability over the years with a zero debt guarantee. A company that has zero debt has a higher chance of growth and development over the years. You need to understand these facts before investing.
5. High-Reliability
The Railtel IPO was subscribed by the investors 43.29 times compared to its previous fiscal. It shows the confidence of the investors in earning the maximum profit from their investments. You must consider these facts before making investments in Railtel Share price.
Statistics For Profit & Loss Statement Of Railtel Share Price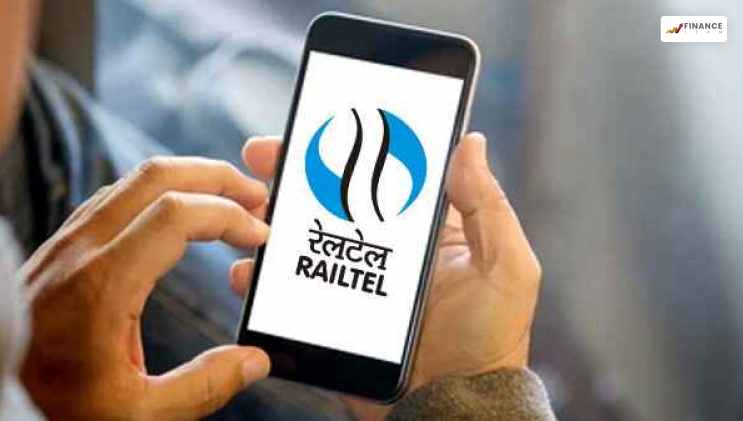 | | | | | | |
| --- | --- | --- | --- | --- | --- |
| Quarterly/annual | March 2022 | Dec 2021 | Sept 2021 | Jun 2021 | March 2021 |
| Total Income | 487.64 | 474.15 | 381.09 | 315.27 | 439.72 |
| Total Expenses | 412.26 | 384.81 | 288.71 | 286.25 | 397.28 |
| Total Income Growth | 2.58 (High) | 24.42 (high) | 20.88 high | -28.30 low | 5.25 high |
| Total Expenses Growth | 7.13 high | 33.29 high | 0.86 high | -27.95 low | 22.87 high |
| EBIT | 75.38 | 89.34 | 92.38 | 29.02 | 42.44 |
| EBIT Growth % | -15.63(low) | -3.29 low | 218.33 high | 31.26 low | 55.07 low |
| Profit After Tax | 54.31 | 66.01 | 67.50 | 21.13 | 27.21 |
| PAT Growth | 17.72(low) | 2.21 low | 219.45 high | -22.34 low | -60.94 low |
| EBIT Margin | 15.46 | 18.84 | 24.24 | 9.20 | 9.65 |
| BASIC EPS | 1.69 | 2.06 | 2.10 | 0.66 | 0.85 |
| Net Profit % | 11.14 | 13.92 | 17.71 | 6.70 | 6.19 |
Frequently Asked Questions (FAQs):
1. What Is The Railtel Corp Marker Cap?
The market cap of Railtel cap is Rs 2962 crores, as updated on July 4th. Hence, it is one of the most successful trading corp for public trading. Therefore, you need to understand these facts on your end.
2. What Is The 52-Week Law/high Of Railtel Corp?
The 52-week high of Railtel's Share price is Rs 150.42, and 52 weeks low is Rs 84.00. So you need to track these facts before making your investments in Railtel.
3. How Is Railtel Corporation Of India To Work For?
The Railtel corporation is rated 3.9 out of 5, comprising 242 reviews of the people given in the Ambition box. From this information, it is pretty clear about the reputation of Railtel corporation and how much safe it is to work for this company.
4. How Is The Work Culture Of Railtel Corporation?
The work culture is rated 3.62 out of 5 by 242 employees. Work-life balance is rated as 3.62 out of 5, and job security is 3.79 out of 5 by 242 employees.
Final Take Away
Hence, you have to undergo these factors above, which I have stated in this article, to get a better insight into it. You need to undergo these facts when you want to achieve your objectives in the right way.
Railtel Share prices have the potential to provide you with stable returns from your investments. It can offer you the returns which you are expecting from it in 2022. You must analyze the market prices and their competitors to clarify your investment process.
You can share your opinions and feedback with us in the comment box. Feel free to share your comments, as your feedback is valuable to us and can help you get better insights on stocks properly.
Disclaimer: We are not a dedicated stock site to make investments depending on our data solely. Stock markets are always risky, and you must follow the market trend and news before investing. 
Read Also: