Yes, you heard it right; you can now have a credit card for your pet friend. Petco credit cards make sure that you gain cashback on each of your purchases for your furry four-legged buddy. Let's understand about Petco Credit Card.
But that is not all. You can also customize the card of your own choice. A picture of your pet friend should be a perfect fit.
Are having it actually worth it? What are the benefits of keeping a Petco pet credit card? This article will inform you about all that you need to know before getting a Petco credit card.
Key Takeaways
How To Apply For Petco Credit Cards?
You can qualify for both Petco Pay Credit Card and Petco Mastercard Credit Card. You don't need a different application for either of the cards. There is only one form that you need to fill out. You get the card based on your credit score.
You need to go to the provider's website and learn more about the process of applying for a Petco Pay Credit Card.
Find out the top menu bar and then select the rewards.
Now, click on Apply Now. It should be under Petco Pay.
Sign In or create a new account using the application.
Petco Credit Card Benefits & Drawbacks
General credit cards offer more frequent and flexible offers and rewards. So, what advantage do Petco credit cards have against General Credit cards? Here are some benefits and drawbacks helping you make a thoughtful choice.
Petco Credit Card Benefits
You can earn Petco Pals points. On your purchases, you can earn Petco Pals points (3% back) on your Petco Purchase. Also, you get 8% back in total once combined with a base rate of Petco Pals. Also, if you get the MasterCard version of the Petco Credit cards, you can earn 2% on your grocery shopping. Also, you get 1% back on the rest.
When you get the card ad to qualify for a purchase, you get 20% off on your first purchase. But if you have qualified for a MasterCard version of the Petco credit card, you can earn $25 in pals reward for each $500 spent outside Petco. However, this needs to be done within 90 days of opening your account.
There are also some special financing offers.
Petco donates 25 cents on each purchase you make using your Petco Credit card. They make a donation to the Petco Foundation.
Petco Pay Credit Card drawbacks
Here are some drawbacks of using Petco Credit Cards–
The reward value is poor. Other store credit cards, even general credit cards, offer much better reward value. Even Petco Purchases and redemptions don't offer a similar amount in return.
The signup bonus is not flexible. You need to make a purchase on the same day when your card gets approved.
The Petco Credit card rewards expire. So you cannot expect to use the credit card at any time. The rewards expire within 365 days of getting issued.
Read More: How to Earn and Enjoy Bonuses of Credit Cards?
How To Redeem Petco Credit Card Rewards?
You can redeem your Petco Credit Card rewards. Here are the necessary steps for redeeming the rewards-
You will see the Petco Pals Reward Dollars in the member's account at Petco.com or Pals Reward Dollars.
As a member, you have to load reward dollars for using them in your account. You can do so by logging into the account online. You can also do it by calling Petco Customer Relations. 
3 Important Things To Know About Petco Credit Cards
Even if you buy pet products frequently, you can still avoid Petco credit cards. Here are some reasons –
First, there are two different versions of the credit card issued by Petco.  The first one is the Petco pay credit cards (usable at stores). The second one, or the Peco pay Mastercard credit card, can be used anywhere.
Secondly, the cardholders earn only 2 points on each dollar they want to spend on Petco products. Also, if they are Petco Mastercard holders, they will earn 2 points for each $3.
Thirdly, once you have gathered 67 points, you will receive a $5 certificate redeemable at the Vital Care Rewards account. But once the certificate is issued, it will only be available for a year before it expires.
Petco Credit Card Review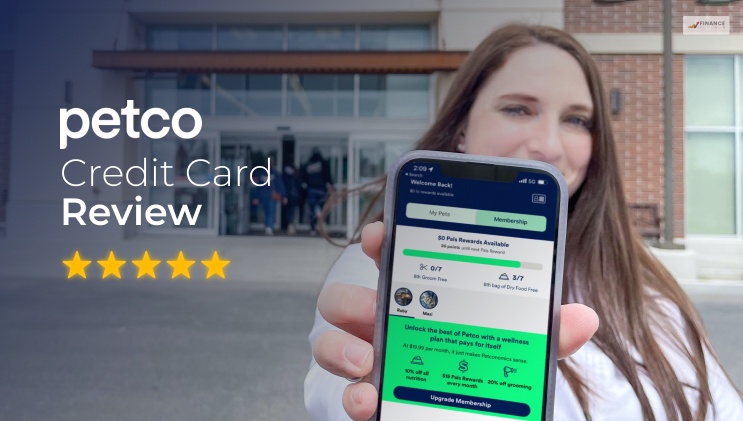 If you are looking for a credit card with your pet's image on it, then Petco credit card payment is a good choice. However, if that is not your requirement, credit cards don't really serve much extra purpose.
Their limitation on the welcome bonus and rewards getting expired are two drawbacks making it unworthy of consideration. It also does not offer any additional benefits over the general credit cards. 
Things To Know About The Petco Credit Cards
Before applying for the Petco pay credit card or master credit card, you better take a look at a few facts. And know about the Petco credit card pros and cons.
1. Two Versions Of The Petco Pay Credit Cards:
Petco offers two different types of credit cards, which community banks issue. Here are two kinds of Petco credit cards. Both cards are free of annual fees and applicable for earning rewards.
Petco Pay Mastercard Credit Card 
You can use this Mastercard anywhere where master cards are accepted. This is more like an open-loop card.
Petco Pay Credit Card
This Petco credit card is accepted only in Petco stores. These credit cards are known as closed-loop credit cards.
Any Petco member can apply for the cards. Once you are signed in, you will find two different application forms. If you are not applicable for the master credit card, they will also be eligible for the Petco credit cards.
2. Rewards Are A Little Confusing:
The rewards could be more apparent as the advertisements already define the percentages. But where can you claim the rewards? You can earn the rewards in the form of Pals rewards points, which only apply to Petco.
With every Petco purchase, the Petco credit card holder will receive 1.6 points. And master card holders will earn 0.4 points on grocery purchases and 0.2 for every other type of purchase.
Through a $100 purchase, you will earn 160 points. And 100 points are equal to $5 in Petco rewards.
3. Earning Rate Are Decent
Every Petco cardholder earns 8% back on the Petco purchase. And 2%back from the grocery purchase and 1% back from the other purchases. Cardholders can earn more than 3% back from the Petco purchase.
If the cardholder can join the Pal rewards program, they will get 2% back from each Petco purchase with the credit cards. And they are also eligible to get the 7% back on store purchases. The Petco credit card rewards are much more flexible.
4. Your Points Lifetime
Petco rewards can be pretty restrictive. After reaching 100 points, Petco credit card holders will receive $5 in a credit form. You can claim the amount by accessing the Petco reward account or the Petco customer care department. Before making any call, make sure you know what time does Petco close.
This reward's life is only a single year. If you return the purchase, you can remove the accounts when you are using the rewards. These actions can cause negative point balances. Hence you can return the used rewards and not get those rewards back.
5. Multiple Financing Options Are Available
Through the Petco credit card login, you can see the account status and available financing planning options as certain purchases qualify for the financing plan. But if you choose the plan, a cardholder can earn the rewards on every purchase.
Here are some of the benefits which cardholders can get.
6 months financing option with a purchase of $299.

9-month financing option with a purchase of $399.

12-month financing option with a purchase of $499.
Frequently Asked Questions (FAQs):
Here are some questions and answers about the Petco Credit Card. You might have a similar query. These questions and answers might be helpful.
1. What Bank Is Petco Credit Card?
Ans: You can get two different types of Credit cards from Petco Credit cards. Both of the cards are issued by Comenity Bank. None of the credit cards require you to pay any annual fees. You can earn a reward from both credit cards. But you can use Petco credit cards only at Petco stores. 
2. Can I Use My Petco Pay Credit Card Anywhere?
Ans: You can use the Petco Master Credit Card only at Petco and the online Petco store. You can also use the credit card everywhere the MasterCard is accepted if you want to apply for these credit cards, you need to be above 18 years old. Once your card gets approved, you can earn 2x Petco pals points for every word spent at a Petco store for purchase. 
3. Do Petco Credit Cards Points Expire?
Ans: All Pals Reward Points Get expire after 365 days of their issuance. 
4. What Is A Credit Score Needed For Petco Credit Card?
Ans: If you want to get a Petco Credit card, you need a credit score of 670 or higher.
Read More: Paytm IPO Review: Paytm IPO Launch Date & IPO Price
Final Words
Comenity, the bank issuing the Petco credit cards, does not have a Trustpilot profile. Also, they are not accredited by the Better Business Bureau. But Comenity has a 1.5 rating out of 5 on Trustpilot. Many customers have also complained about hidden fees and charges. But looking at the benefits, you may still choose to get a Petco Credit Card.
I hope that this article was helpful. If you need an answer to any further queries, then you can comment below. We will reach out to you as soon as possible.
Read Also: