What is Comenity Easy Pay, and what advantages does it offer? Why is it a reliable means of payment? How can you use it with a credit card? What alternatives exist to Easy Pay?
If you have such questions in your mind, then you have come to the right place. Read this post till the end to get all your answers now!
What Is Comenity Easy Pay?
Customers using Comenity credit cards have access to EasyPay, an online payment facility, to pay their monthly credit card payments. There is no requirement to remember your username and password in order to log into any account. It's a direct payment mechanism that identifies your account and enables you to make an online payment using the information from your account.
Comenity Easy Pay customers may utilize EasyPay's quick, simple, and straightforward payment service at any time. This can be done by accessing the company's website on a web browser. It's a cross-platform online service that works with a range of devices and does away with the limitations of logging into the account center and paying bills.
The key advantage of Comenity Bank EasyPay is that no account-related information is shared with third parties while a payment is being processed. Only information connected to paying bills is given to the individual making the online payment. Customers who wish to effortlessly manage their credit account payments and prevent late penalties might choose Comenity Easy Pay.
How To Pay Using Comenity Easy Pay?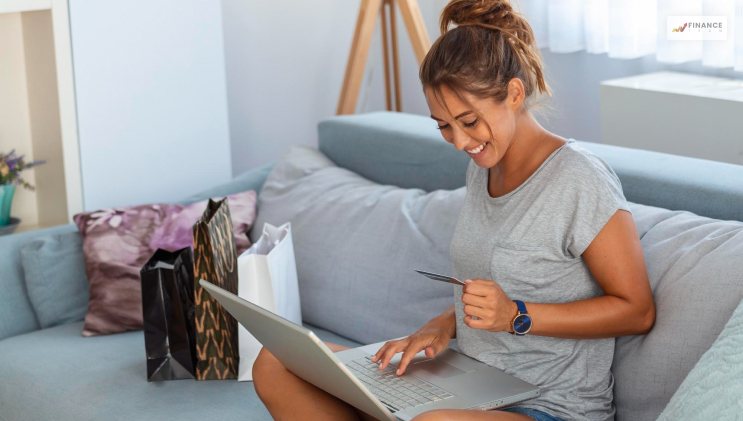 Using Comenity Easy Pay for making a Comenity credit card payment is pretty easy once you learn how to do so. Here's the entire process for doing so:
First, visit this website – www.breadfinancial.com.
Then, navigate to the home screen and click on the Credit Card option.
Next, click on Find Your Card.
Now, enter your credit card details (like the brand name) in the information boxes on the form.
After the last step, you will be provided with a list of matching credit cards. Select the one that's yours.
After you click on it, you will be shown a page where you will see the link to Log In and Apply.
Finally, click on the Sign In option once it appears.
Give all your account details and finally click on Sign In.
In the previous step to connect to the Comenity credit card page, you will find the EasyPay link on the homepage. Click on it.
On the EasyPay homepage, navigate to the option Online Payment Form and click on it.
Fill up the Online Payment Form with its required information and then click on Find My Account.
Can I Edit Transaction History With Comenity Easy Pay?
Only scheduled ACH payments can be edited or removed. You won't be able to alter or cancel it once the money has been moved out of your bank.
You have until 5:00 p.m. Eastern Time on the planned payment date to amend a qualifying payment using Account Center. You must erase the Comenity Card Payment before the due date at 11:59 p.m. Eastern Time, at the latest.
Is Comenity Easy Pay Safe?
Both the EasyPay service with a Comenity card are safe and secure. You won't be taken off the website at all while utilizing Comenity Easy Pay to make a payment. Your account information will be obtained if you previously made an online payment while logged in to Account Center. In addition, you may then add your Comenity payment account and complete the Comenity bank payment process.
Other EasyPay Alternatives
There are several options for paying with a credit card. All of Comenity Bank's clients have access to a variety of payment alternatives, and they can select any one that works best for them. Please review the other payment choices below.
1. Phone Payments
All clients can also make payments over the phone. Simply call the customer care number shown on the back of your credit card and follow the automated dialer's instructions to make a payment.
The phone payment method, where clients may interact with a live representative and make a payment, also offers an accelerated payment option. Every time you conduct a transaction using the phone's expedited payment service, you will be required to pay a service fee.
2. Mail Payments
Additionally, clients can mail money orders or cheques to the payment address. The monthly billing statement includes the payment address.
3. Store Payments
There is a potential that the retailer will accept credit card payments through their stores if you are using a store credit card that Comenity Bank has issued. You'll need to personally check it out at the shop.
Frequently Asked Questions (FAQs):
Various Comenity Easy Pay users have asked various questions, which I have answered below:
Q1. Who Can Access My Comenity Easy Pay Account?
Ans: Unlike what most people say, no one has access to your Comenity EasyPay account. All details of this account will forever be with you only.
Q2. Is Comenity's Easy Pay Legit?
Ans: Yes, it's 100% legal to use Comenity's Easy Pay system to make all your card payments easier. So far, more than 50 million customers have used this process.
Q3. What Company Is Comenity EasyPay?
Ans: Comenity Bank is one of the biggest credit card companies in the USA, with more than 92 programs. Many American retail stores make use of their credit payment systems. 
Conclusion
Comenity Easy Pay allows you to pay your bills online without entering a login, password, or Account registration information. In exchange for identifying information, Comenity grants you only the necessary access to make a payment without granting you access to any additional account data.
Throughout, you stay on comenity.com. We will access the data you gave when you last made an online payment while logged in to Account Center. When making this payment, you may add an additional checking account, but it won't be saved until you sign up for Account Center.
Read Also: