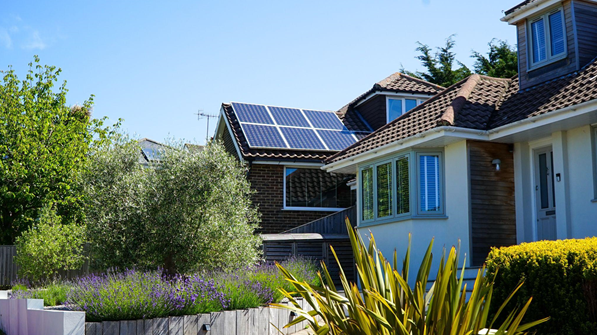 At a time when the need to tackle climate change (and rising inflation) has become paramount, "green" home loans have emerged as a beacon of hope for homeowners looking to save money and the environment
These financial tools are helping regular people embrace renewable energy solutions like solar panels and adopt more energy-efficient heating and insulation options such as heat pumps. In this article, we dive into what green home loans are, why they're gaining popularity, and how they could support a more sustainable future.
So What Is A Green Home Loan?
Also known as eco-friendly or sustainable home loans, green home loans are specialist mortgage products made to help homeowners invest in renewable energy systems (such as solar and small-scale hydro) and energy-efficient upgrades for their properties (including heat pumps and insulation).
They often feature better terms than regular loans, such as reduced interest rates or extended repayment periods. Better still, they incentivize borrowers to make more environmentally conscious choices that benefit them and the planet.
Key Features Of A Green Home Loan
Opening Up Home Solar Energy Systems
Homeowners can draw on these loans to install solar panels on their rooftops, harnessing the sun's energy to generate clean electricity which can either be used to keep the lights on or power household goods or sold back to a power company for a profit.
This not only reduces dependence on fossil fuels but but it also means homeowners can save money in the medium and long term on utility bills
Elevating Energy-Efficient Home Improvements
Green home loans let homeowners buy energy-efficient technologies such as heat pumps, wall and roof insulation, and high-efficiency HVAC systems at relatively low interest rates. These products lower energy consumption, as well as energy bills
A Boost For The Environment
Indirectly, green home loans can help lower carbon emissions across our cities and towns by helping people purchase more eco-friendly home improvements.
In this sense, it could be said that they can play a very real role in the fight against climate change. Plus, with governments around the globe looking to cut their carbon emissions wherever possible, some even may see it as a way for regular citizens to play their part.
Why Green Home Loans Are Heating Up
A big reason behind the popularity of green home loans is cost savings – pure and simple. With soaring inflation and a cost of living crisis in many countries, renewable energy solutions that can allow for long-term cost savings are highly appealing, even if they involve an upfront cost.
As a society, we are also becoming more environmentally conscious. We make choices every day that help us reduce our carbon footprint and green home loans are yet another option that allows people to make a more climate-conscious choice for their homes.
Better still, homes with renewable energy solutions (such as solar panels) can expect to fetch a higher price on the market when owners put them up for sale, making them an enticing choice – especially for those who have an eye on selling in the near future.
New Zealand's Green Commitment
New Zealand is one country where green home loans and related forms of finance have taken off in a big way.
The country of 5 million people has been steadfast in its commitment to reducing carbon emissions – both at a government level and among its citizens. Mitigating the impacts of climate change has been a top item on the national agenda and the country has a comprehensive strategy to transition towards a low-carbon economy.
Key initiatives include policies to promote renewable energy sources like wind and hydropower, electrifying the adoption of EVs, boosting energy efficiency in homes and industries, and investing millions in sustainable agriculture practices across the country's thousands of acres of farmland.
New Zealand's financial institutions and lenders aren't lagging behind, either. They're meeting the growing demand for eco-friendly financing options and many now offer green home improvement finance options as well as low-rate loans for EVs and hybrid vehicles.
A Green Future Supported By Green Finance?
Green home loans are only likely to become more prevalent as we continue to look for ways to tackle climate change (as well as save money). Some have even speculated that green financing will become its own sub-category of finance.
Green home loans are not just transforming our homes, but they can also give regular people the opportunity to contribute to a more sustainable world for future generations.
Read Also: