How to report your rent to credit bureaus?
Like numerous renters out there, I have solutions for you if the same trouble is worrying you. Renters who pay their rents on time and still do not gain any credit in return are frustrated over this problem.
The reason for this problem is that– rents are not regularly reported to the credit bureaus.
This is a very concerning matter for a large portion of US citizens. Nearly 35% of the population live on rent. And a massive 25% of renters spend more than fifty percent of their monthly income on rent.
50% of renters spend around thirty percent of their income on rent payments. Since these renters spend most of their credits on rent, they deserve to gain credit scores for timely payment.
If you are one of them who pays their rent on time but does not get any credit score boost, you can benefit from this article. Since the problem occurs due to irregular rent payments to the credit bureaus, you can solve the problem by reporting the rent to the credit bureaus.
I have some options for reporting your rent that might help you. But, first, allow me to help you understand how paying rent may affect your credit score.
Do Rent Payments Boost Your Credit Score?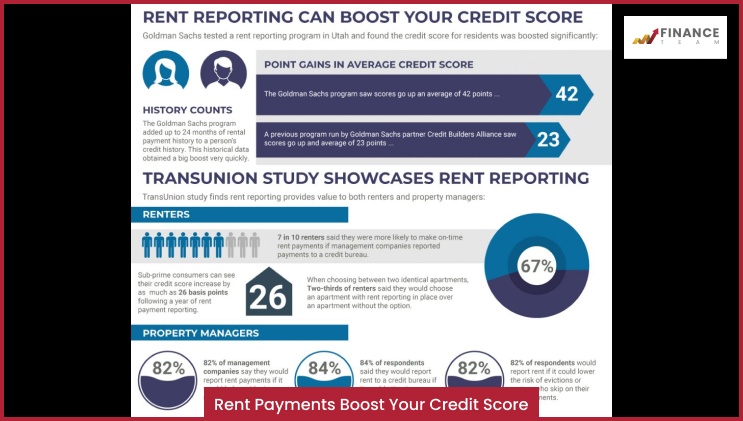 Rent payment does indeed help boost your credit score. This is because the three major credit score bureaus– Equifax, Experian, and TransUnion, include your rent payment information once they receive it.
Your credit scores provide the data giving your credit scores a much-needed boost. There are two major credit scoring companies, FICO and VantageScore, and they have different ways of handling the rent payment information.
The regular versions of FICO don't utilize your rent payment history in calculating your credit scores.

You need to use the new version of FICO (FICO 9 and Fico 10) since they consider your rental information from your credit report.

VantageScore also considers your rent payment information in boosting your credit report.
How To Report Your Rent To Credit Bureaus?
Since you understand reporting your rent payment helps you boost your credit score, let us proceed with how you can do it. Here are a few things you can do –
1. Have A Chat With Your Landlord
It is possible that your landlord is already reporting your rent payments to the credit bureau through services that manage the process (RentBureau, for instance). Your landlord may be already helping you build your credit history. 
While this may be helping you boost your credit scores, you need to make sure that it is actually working. Your landlord may be using Experian RentBureau, but it does not ensure other credit bureaus like Equifax or TransUnion are receiving your credit history. You can only ensure the entry of your rent payment history to the credit bureaus by reporting your rent payment yourself.
You may like to read: Why Renting Is A Better Financial Decision?
2. Get In Touch With A Rent Credit Service
There are major service providers who help you report your rent payment history to all three of the credit bureaus for a certain amount of fees. If you are looking for this service, then I can recommend a few of them to you–
RentReporters:

Rent reporters report your rent payment to Transunion and Equifax credit bureaus. Their service includes a two-year-long package (costing $94.95), a monthly package ($9.95 per month), and you can also get yourself a yearly pack ($7.95 per month).

Rental Kharma:

If you want to only report to TransUnion, you can use the services of Rental Kharma. They charge you a setup price of $50, and you need to pay $8.95 per month to get your rent payment reported to the credit bureau.

Level Credit:

Level Credit was previously known as RentTrack.This rent reporting service only charges you $6.95 every month. In addition, the service offers you 24 months of look-back on your current lease for a one-time fee of $49.95.

Pay Your Rent: I

f you want your service to report your rent payment to all three of the credit bureaus, you can use Pay Your Rent services.

FrontLobby:

Landlords can use FrontLobby to report monthly rent payment reports to Equifax and Landlord Credit Bureau.

Cozy:

If you are looking for a Free Rent Reporting service that helps you report your rent payment to Experian, Cozy is the service to help you out. You don't have to use this service yourself; it is a service for the landlord, and it helps them receive rent from the tenant's account for a monthly payment of $9. This service automatically reports all of your rent payment information to Experian.
3. Use A Credit Card For Paying Your Rent
You can use your credit card to pay your rent and boost your credit score. Also you can talk to your landlord to check if they accept your rent payment through a credit card. You also need to note if you will be charged any additional charges for any additional service fees. If you have a reward credit card, then you can use it to pay your rent and also earn some rewards and cashback.
The best way to boost your credit score is to pay all of your debt on time by paying off on full balance.
Other Ways Of Reporting Your Rent
The best way to boost your credit score is to report your rent payments to the credit bureaus. However, there are more ways to improve your credit scores. You can use these ways to do the same–
Timely payment of any bills:

Your credit ranks will surely increase if you pay your student loans, medical bills, and utility bills on time.

Timely debt payment:

Paying your debts on time can also help you improve your credit ranks.

Maintain Low balance:

On the revolving lines of credits, you can maintain a low balance for a credit score boost.

Be an authorized user:

You can boost your credit scores by being an authorized user on someone else's credit card.
Read more: Cash Flow To Creditors Calculator- Everything You Need To Know.
Frequently Asked Questions (FAQ):
Now that you know how to report your rent to credit bureaus, you can understand how reporting rent payment history works. However, if you have any further questions, you can use these recommendations–
1. How To Choose A Rent Reporting Service?
You only need a rent reporting service when your landlord does not use one. However, you can use one even if your landlord has a service. There are a few things you need to consider when choosing a rent reporting service–
Total cost including set up and monthly charge.

Security of your personal data.

It is best if the service reports to all three of the credit bureaus.

If they offer free access to the credit scores.

How fast are they in delivering the rent payment report, and how fast are you getting your credit scores?

If there is an option for the cancellation of their services.
2. Why Is Building Your Credit History Important?
Your credit history is more important than you may think. For instance–
Your credit history helps you earn credit services like mortgages and credit cards and get auto loans.

Lenders check your credit reports to check the possibility of whether you will pay them back or not; and how fast you can pay back your loan.

Responsible renters get benefits from paying their rents on time. Their rent history helps them earn credit scores.
3. How Does A Rent Payment Report Help Build A Credit History?
According to Experian, they incorporate your rent payment information to Experian RentBureau, then into Experian credit reports. The rental payment data gets included as part of your standard credit reports.
They may be incorporated into specific credit scores. When your rental payment history (positive history) gets included in Experian credit reports, you have the opportunity to build up your credit scores through timely payment of your rent.
Bottom Line
If you are paying your rent on time, then you deserve to rack up some credit scores for your punctuality and diligence. However, your landlord may not always report your rent payment history to credit bureaus; or he may not report it to all three of the rent bureaus.
If such is the case, you can use the options I have mentioned here to boost your credit score. You can use the rent payment reporting services that I listed here. These services don't charge much, and they are worth spending money on if you are hoping to build your credit scores.
Read Also: