Insurance can be a complicated subject. Fortunately, with the advent of Policy Bazaar, the incomprehension regarding the subject has decreased to a point. 
Established in the year 2008, Policy Bazaar is a platform that is known to have built the country's largest online space for insurance-related plans. It is also popularly known for creating awareness about the importance of insurance, as the subject is so scarcely discussed in the education system of our Indian society. 
This online establishment doesn't only allow us to innovate and customize products but also makes the concept a lot easier for you to understand. 
So, if you plan to secure your life with insurance, you might want to check this new Policy Bazaar IPO Review. 
Policy Bazaar IPO- Everything You Need To Know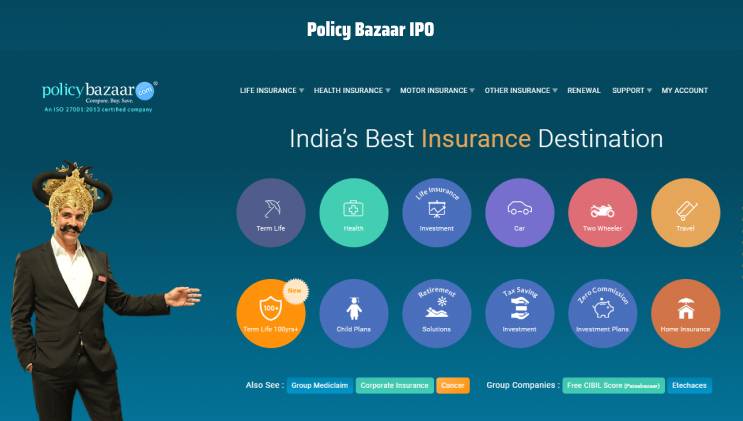 This article will consist of important information like date, price, and objective. Additionally, it will also include pointers you should keep in mind if you want to invest in it as an investor or a customer. 
Date

: Policy Bazaar IPO date for opening and closing hasn't been decided yet. 

Listing: Bombay Stock Exchange [BSE], National Stock Exchange [NSE]
Offer For Sale

: 22,675 Million

Fresh Issue

: 37,500 Million 

IPO Size

: 60,175 Million 

Face Value

: ₹2 [Per equity share]
Objective
Policy Bazaar and Paisabazaar who are part of the same PB fintech domain are aiming to raise ₹6,000 crores with its public offer. With its debut in Dalal Street, they are planning to join start-ups that are going public in the upcoming months. 
The company has also estimated an Rs.750 crore pre-Policy Bazaar IPO placement of stock.
In this IPO, the company is also highly aiming to create awareness about the company and about the importance of insurance in general. A pre-allocated amount of Rs. 1500 crore is placed for this objective. 

Being among the five startups this year to debut on Indian bourses, Policy Bazaar IPO also aims to meet the general corporate expenses. 

This India-based startup is also planning to go overseas and establish a business in UAE in this IPO. 
Policy Bazaar Share Price
As mentioned before, the fresh issue price for the IPO is 37,500 Million. Additionally, Rs.2.267.5 crore is offered for sale by existing shareholders SoftBank Vision Fund [9.75%] and Python [9%]. 
Some of the other investors with a share in PB infotech are Intel Capital, Tiger Global Management, Tencent Holding, Ribbit Capital, Falcon Edge Capital, True Northland, Premjiinvest Info Edge, ABG Capital, and Steadview Capital, etc. 
Things You Should Know Before Investing In The New Policy Bazaar IPO
The technical details of the IPO have been discussed above. Now, as a customer if you are trying your luck with this online insurance domain then there are certain pointers you should keep in mind. 
PB fintech has a strong ideology for customer satisfaction. They know their niche consists of something that could create confusion among most of their target audience, so they strive on making it simple and assisting them throughout the process.

They keep attracting potential customers while not forgetting about the old ones. Special attention is given to each and every one. 

You can find any insurance plan that suits you from its vast range. However, if you don't, Policy Bazaar has a feature to customize it according to your liking. In fact, in the new Policy Bazaar IPO, they are strengthening their new collaborative tools that will be bringing more insurer and lending partners. 

It is already providing superior economics to future businesses with its high renewal rates. 

We often think that insurance is an afterthought when we are much economically stable in our lives. However, you should start thinking about insuring your life and assets with the advent of your financial independence. Policy Bazaar is known to serve customers from all economic, demographic, and employment backgrounds. 

The operating cost is low and the capital will be much more efficient after the opening of the new Policy Bazaar IPO. 

Evaluation of data and analytics are an important part when you want to invest in a company as an insurer. Therefore, in the new IPO, the company has planned to invest in providing better data and insights for insurers to better their customer services. 
What Are The Considerable Risks Of This Policy Bazaar IPO?
With an IPO that has the potential of dealing with such an admirable amount of capital for its betterment can be tempting. However, as a new external investor of any kind, you have to evaluate the risk that will come with it and then make an informed decision. 
Covid 19 and the probability of the fifth wave approach can delay the launch or cause an unnecessary nuisance that can negatively impact a business. 

If you are planning to invest in this IPO, remember there is a lengthy set of rules that you have to comply with to be a part of it. Breach of which could cause a bad impact on their firm.

Being a startup they have had their fair share of failure and losses and they might raise future expenses to compensate for that. 
To End It
As an investor or a customer if you are looking forward to investing in the latest Policy Bazaar IPO, remember that any monetary involvement will have risks. However, the risk is not a bad word in the world of finance, only if assorted careful. More popularly known is the calculated risk method. 
When it comes to risk, it is always advised to start small and then gradually aim for a big profit. All in all, with this new IPO and the customer service that Policy Bazaar is known for, it is not a bad investment if you are starting new. 
Read Also: